Here comes fall. What an appropriate name for a season in which the leaves drop as fast as the temperature.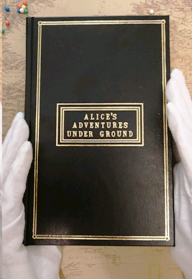 My blog last month talked about possibly using crowdsourcing to publish Broken String, my new novel that is now in final edit. I received several comments at Deadwood Writers Voices and thanks to all of you for that.
To better understand Kickstarter.com, I decided to "back" one of their book projects. To get a feel for how this might work, I backed the 150th Anniversary Edition of Alice's Adventures Under Ground. It is being produced in Australia under License from the British Library.
This is Charles Dodgson's original version of Alice and it includes the 37 illustration Dodgson did himself, with the story in his own hand writing. Lewis Carroll was a pseudonym for Charles Lutwidge Dodgson. His penname was derived from the Latin spelling of his first and middle names, and then reversed and translated back to English.
This 150th Anniversary Edition is leather bound with gold embossed titles with black and white and two-color illustrations. I'm looking forward to seeing it on my classics shelf, after I've read it.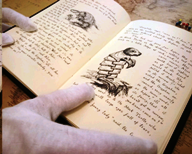 If you are not familiar with the backstory of Alice, Dodgson originally wrote it as a short story for his College Dean's daughter. After hearing him tell the tale, twice, during two rowboat trips, Alice Liddell, asked him to write it down for her. He wrote it out in long hand and did his own illustrations, then he had it bound together and gave it to Alice as a Christmas present in 1864. He was encouraged to have it printed for sale and so expanded the story from 15,000 words to 27,500, and brought in renowned illustrator John Tenniel to do better illustrations. He self-published the story, retitled, one year later. That 1865 typeset version is now known as the first edition of Alice in Wonderland. One hundred fifty years later, we have a finely crafted tome of the author's original words and illustrations, as he presented it to twelve-year-old Alice.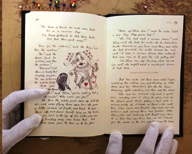 Participating with this project has given me insight in how a successful program works. Their costs were projected at AU$20,000 and they raised over AU$109,000 from 1,081 backers worldwide. During the six weeks, I received several emails with updates on the project, complete with pictures of set pages and workers busy on the production. It was a very easy process and it gives me some hope.
Now, I'm not the British Library and my story hasn't been loved by children of all ages for 150 years, but seeing how they organized the campaign and how they grew interest from under 100 the first week to over 1,000 backers by the end is encouraging.
For my project, I'll first need to gather a core group of readers, friends and fellow writers to back the project once the campaign does start. Kind of give it a push out the door. Getting that core group to reach out to the friends they know who might enjoy a suspense novel like Broken String is critical to the overall success. Backers of my project would receive deep discounts on signed, first editions of the printed book and first day delivery of the e-book, much like the Alice project offers. I would like to offer versions in limited edition, hard cover, trade paperback and e-book to have the widest price range for backers.
It's still just an idea germinating in my head. I'll keep you updated, but I would love to hear from more of you as far as what you think of this idea. What kind of a discount would entice you? Or, what else would be enticing enough for you to back a project like this?
Wanted: Graphic designer for the cover art. Can you recommend anyone?