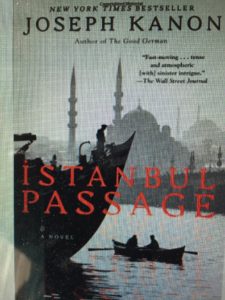 Outside it's rainy and chilly and it seems like spring might not make it this year. There's not much I can do about the weather. What I can do is stop wasting time and start focusing on what I'm going to write about for this month's blog.
I just finished reading Istanbul Passage: A Novel by Joseph Kanon. It's an international spy thriller that takes place in Turkey at the end of World War II. It kept me mostly sitting on the edge of my chair afraid to breathe. I kept wondering: What was going to happen next?
One of the most interesting things Joseph Kanon did, from a writers' and readers' perspective, was make Istanbul, the city itself, come alive. It's a character in the story and a very important one. This is an example from the beginning of the book. Notice how the city gradually comes to life, like a person almost:
"During those first weeks they didn't see the old wooden houses, listing and creaking from neglect, the backstreets with clumps of garbage and mud, cracked fountains seeping moss. They saw color, heaps of spices, everything that wasn't Germany and water everywhere, a city where you took ferries just to be out on it, looking at domes and spires, not the crooked, dirty streets. Anna wanted to see everything, the famous sites, then things she found in books, the Camondo Stairs, twisting down Galata Hill, the cast-iron Bulgarian church, the Byzantine mosaics out near the old city walls where they could eat picnics on the yellow grass, looking up at the giant stork nests in the ruins."**
Reading the book was like stepping back in time, into the Istanbul that existed in late 1945. Joseph Kanon makes it possible for you to walk down streets, up hills and through back alleys. You feel the rush of flagging down a taxi or running for the tram. Coming down a steep hill in the funicular took my breath away.
"They caught the ferry back to Eminonu and wandered through the spice market like tourists, looking at the tall cones of ground spices and piles of dates. At a nougat stall . . . But then the man turned, eating candied pistachios, just another fat man, and Leon realized he'd been staring and looked away. They went out the side exit, past the bird market, cages noisy with song and fluttering."***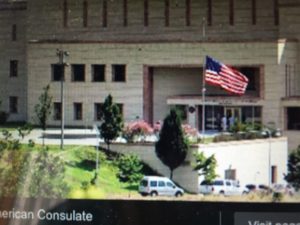 I loved visiting the mosques, the bazaar and out to dinner to a nice restaurant. I became fascinated by constantly having to take a boat from the European to the Asian side and then back again.
What I took from this book is that it's possible to make a city, any city, a character in your story. If you do, it could be a lot more interesting! Have you tried this technique?
*Istanbul Passage: A Novel by Joseph Kanon, Atria Books, 2012.
**Location 345 of 6,447.
***Location 3,301 of 6,447