Everything We Keep is Kerry Lonsdale's first novel. It came out in 2016. It tells the story of Aimee Tierney who lives in a small town in California and works in her parents' restaurant. She's expecting to marry James, who she's known since elementary school, and eventually have a restaurant of her own.
Then life intervenes. On what would have been her wedding day, she buries her fiancé who died on what was supposed to be a business trip. Aimee's waiting to leave after the church service and funeral when a woman approaches her. She says, "I'm here about James… I have information about his accident… James is alive."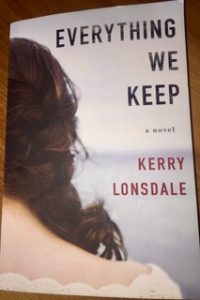 Aimee doesn't believe her. And the story takes off from here. She meets Ian, a photographer in town, opens a restaurant, travels to Mexico and meets Carlos. Then, one day, Carlos wakes up and reads the letter that concludes, "I am you."
This story has a lot of secrets that Aimee learns about along the way: who Phil Donato really is; whose family the business actually belonged to; why James really went to Mexico; who paid Aimee's lease while she was fixing up the restaurant and before she could open; why Imelda, who owns the hotel in Mexico, sent Lacy to find Aimee and why Thomas, James' brother, did what he did.
There are a lot of themes in this book. You'll have to read it to see which one resonates the most with you—letting go, healing, forgiveness and love.
Everything We Keep was a top Amazon bestseller of 2016, a Wall Street Journal bestseller and Barnes & Noble begins their review by saying "A luminous debut with unexpected twists…" Goodreads says 62,592 people rated "Everything We Keep" and 3,319 people wrote reviews. That's a lot of readers!
This was a very nice reception for a debut novel!