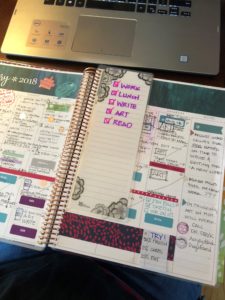 Trying to figure out what process I want to take this year for the Deadwood Writers Voices has been a swirling dilemma for me this past couple of months. And I discovered through my creative process last year writing the meet-cutes drew me away from writing my novels and editing my works in progress. It helped with future story ideas, but my other works got sidelined. I'm striving to balance each piece of my writer's life, and my artwork—which I'm developing more to open my own business—by using the scheduling process I've launched. I'm hoping it will allow me to see how to accomplish everything I want to each week, month, and year.
My weaknesses to this end are reading too much of my favorite genre, romance, and leans heavily on procrastination which is a result of my fear of failing what I'm trying to accomplish. The fear of failure is another reason driving me to schedule things. I can hold myself accountable.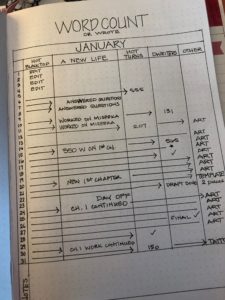 One of the highlights of writing things down has been, aside from the monthly schedule, my bullet journal. I started this along with the scheduling so that I could see my progress. It has helped. I write down every accomplishment. I've blocked off six columns which are designated as follows, each day of the month, Hot Blacktop (I needed to fix some grammar and word confusion issues, so I could upload the new content), A New Life (work in progress), Hot Turns (the sequel to Hot Blacktop), DWriters (our blog), and Other (which could be a new story idea or even my artwork). What is exciting about using the bullet journal is I can focus on the accomplishments. If I can see what I've done every day, I know I'm progressing even if it is baby steps. It might not be even more than a couple of hundred words, or questions I've answered regarding characters and content that will make the work stronger. It's progress, so I'm going to record it.
Talking about progress, learning more about writing techniques to improve my skills or getting advice from experienced authors on how to be a better writer is on top of my to-do list. Compiling a list of books to read this year has been fun, so I'm sharing the non-fiction list I've gathered so far. These are in no particular order, and each is linked back to Goodreads.com.
I hope you would comment and add any books that have helped you in your writing journey, or any book that has helped you in life.
The window into my writer's life at the beginning of this year has been a short one so far, but insightful. I hope you'll continue along on my journey and see what happens in the coming editions of my writer's confessional.
Happy Writing!