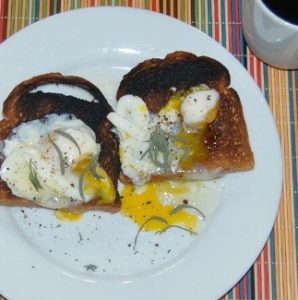 Serving up Donald Trump and Hillary Clinton for President this November is like your waiter asking if you'd prefer cold, runny eggs for breakfast, or yesterday's burnt toast. The only other thing on the menu is not voting for a president, and that is even less appetizing.
But Mr. Trump's interruptive, bombastic, New York, New York-style might be just what The People need in Washington, DC right now. The number one job of our next POTUS must be to end the gridlock in Washington, and to finally hold all elected officials to a higher standard. Like their sworn duty to work for the people who elected them instead of the lobbyists who made them millionaires. Maybe that's not "old-money" billionaire Trump, who put his own money where his big mouth is to win his party's nomination. But it is certainly not "new-money" millionaire Clinton who speaks privately out of one side of her mouth and publicly out of the other side. So, if it's between cold, runny eggs and yesterday's burnt toast anyway, here are two ducks Donald could get in a row to earn my vote.
First, my main concern is stopping the Republican party from further weakening women's rights. Mr. Trump has waxed and waned on this issue, so he could decide to put a stop to it. His wife and daughter might help. They are both powerful women in their own right, and they have his ear.
Some Republican legislators are trying to enact demeaning, overbearing and purposefully humiliating laws on young women. Laws that are based on pseudo-science and someone else's religious convictions. It is hard for me to distinguish the difference between a Turban and a Yamaka, a Habit and a Hijab, when I see baseless laws trampling the First Amendment. The Supreme Court – if not Mr. Trump – must stop the Republican Party's religious right from trying to run the country from the pulpit. Otherwise, I fear it will soon be breakfast in Americastan.
Abortion is a hard decision for any would-be parent, a decision they will live with for the rest of their lives. I doubt if it is ever made lightly. But it is a decision that should be debated by family, not legislators, behind closed doors, not in open court. And the medical community must be free to dismiss all legislative-induced, pseudo-science.
If Trump says he'll leave all personal decisions to the person, I'm voting for him. If not, Hillary has already said she is pro-life. I'd rather four more years of gridlock than see women lose their right to self-determination.
Second, as long as Trump is cutting his own Republican cloth, this summer would also be a good time to announce he will repeal the federal criminal laws on marijuana.
It is way past time to remove marijuana from its Schedule 1 status, let the medical field conduct proper research on it, and let adults smoke it recreationally. The marijuana laws have done more harm to people than the product ever could. A lot of countries are finally realizing this, but there are over 100,000 Americans, most of them young, who are serving pot-only related sentences, and thousands of more lives have been diminished because of pot-related felonies. President Obama is trying to rectify as much as he can. He commuted another 58 such sentences earlier this month including 18 who were serving life. He's now commuted 306 sentences while in office, more than the previous six presidents combined.
On April 20th, the Prime Minister of Canada introduced a law to decriminalize pot by next year. Two days later, the President of Mexico proposed new laws to decriminalize possession of under an ounce. It's high time America did, too.
All comments welcomed.