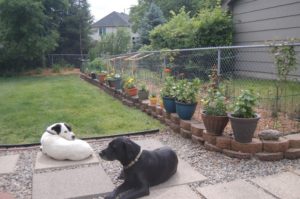 This is my last blog for a couple of months. My wife Maureen and I just bought a new car and we've decided to put it to good use this summer. That, and a garden that is fast becoming a handful.
I said "grow little garden, grow," and it is! Now, other than the tomatoes, all the veggies and flowers are doing exceptionally well. Too well. We now have fresh cut flowers in the living room, dining room, kitchen, front hall, our bedroom and our bathroom as well as the downstairs bathroom… and a yard-full of budding replacements just dying to get in! We've run out of vases and are now using canning jars. Our little compost box will be full by July at this rate, but that's not the half of it.
We decided to build a new deck so we can better enjoy the back yard gardens. Our 12×12 deck is fifty years old, so it's time. We're replacing it with a 16×30 version that will run along the back of the house and allow us to watch television from the deck. You, too, would quickly rationalize the cost if you saw all the hummingbirds, robins, blue jays, finches, blackbirds, and cardinals fighting for the flowers and accompanying bird feeders. Endless entertainment. The new deck will also allow us more room for still more potted flowers, which means a bigger compost. Still all good.
Here's where it starts to get expensive. The builders are going to trash the back yard with their equipment and with stacks of lumber and supplies during the seven-to-ten days it will take to complete. All the grass will grow back, so… But they have to remove part of the fence to get to the back yard, and that means our dogs will have to remain inside. For ten days. Not good. So we decided it would be a great time to visit distant friends and relatives; we can take the dogs!
Now you see why we needed a new car. SUV's were quickly ruled out; too high off the ground. The Dodge Grand Caravan was the only new car low enough that our two old mutts could hop right in without the need of steps or a ramp. That is, once we removed the center row of seats and turned it into a doggie limo.
I had no idea a garden could cost so much.
Have a wonderful summer, all!
-Phil