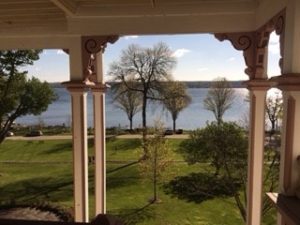 What do you think of when you hear the name Chautauqua, Chautauqua, New York?
The first thing I thought of was an Indian Tribe. Was I wrong! Wikipedia says, Chautauqua was an adult education movement in the United States, highly popular in the late 19th and early 20th centuries. …The Chautauqua brought entertainment and culture for the whole community, with speakers, teachers, musicians, entertainers, preachers and specialists of the day. Former U.S. President Theodore Roosevelt was quoted as saying that Chautauqua is "the most American thing in America."
I first became interested in the Chautauqua Lectures when I was driving home from work in Chicago. I'd tune in to Public Radio and frequently the announcer would say they were "live at Chautauqua", carrying a speech by someone well known in their field. I felt very fortunate to be able to listen in! So when I read that Road Scholar was offering weeklong trips there, I knew we had to go.
Today Road Scholar, an educational travel organization for anyone 50 and over, offers weeklong trips to Chautauqua. They are filled with lectures on various interesting topics from 9:00 to 12:00 each morning. The speakers are interesting and well prepared.
The afternoons are for yoga, nature walks, relaxing or exploring on your own.
After dinner there's live entertainment. One night we heard a singing group, another night it was a jazz trio and the last night was a musical performance by a one-man orchestra!
My husband and I went for the week starting May 15.
I'm not sure what was more enjoyable: The lectures, the Athenaeum Hotel where we stayed or the town of Chautauqua itself.
We stayed at the Athenaeum Hotel, a few yards from Chautauqua Lake. The view was lovely. The hotel had been built in the 1880s and modernized. It had large front and side porches with rocking chairs for reading and chatting and tables for eating outside or playing cards.
This is the view from our room, #22.
After this experience, I agree with Theodore Roosevelt, Chautauqua is "the most American thing in America."