Warning:  There are spoilers in this article.
It's no secret to anyone who knows me is aware I am a huge fan of the Resident Evil video game series.  The same cannot be said for the live action "adaptation" films starring Milla Jovovich.  Though they featured many of the same characters from the game series, it was in name only.  My main problem with the live action movies are their complete disregard for the established stories, conflicts, and character histories that make the games so resonant and fantastic.
I much prefer the anime films which are more closely tied to and expand on the game series.  I enjoy Degeneration (2008) and Damnation (2012) so much that I've made them part of my DVD library.  When I first heard news of a third animated film called Vendetta, it instantly was added to my list of movies to see.  And that was before I found out it would mark the return of a character – Rebecca Chambers – who hadn't been seen since the first two chronological games in the series.
I was even more excited to find out I would be able to see Vendetta on the big screen.  I purchased a ticket ahead of time on the site, FathomEvents.com, for a one-night showing on June 19.  This was something I had never done before, but it is a site I may go back to since they also bring older films back to select theaters for special showings.
I was pleasantly surprised by the décor of the theater – AMC Livonia 20 — showing Vendetta.  It looked much nicer and neater than the one I usually frequent – Star Southfield.  The one thing I was even more surprised about was that there was even a bar serving alcoholic beverages on the premises.  I've never been to a theater that featured such a thing.
As an added bonus, the theater had airplane seats that were quite cozy.  It wasn't long before I settled in and waited for the film to start.  I was the first one there, but the place gradually filled with at least twenty to thirty more people.  I even struck up a short conversation with one of the movie-goers, whose husband was a bigger fan of Resident Evil than she was.  We didn't exchange names, but I did find out the latest entry in the game series terrified her.
What made Vendetta even more enjoyable was that a documentary was shown prior to the actual film that talked about the making of the movie.  It even had the three main voice actors sharing their thoughts about the film.
Though I had seen a YouTube video depicting the first nine minutes of Vendetta ahead of time, the theater had such a good sound system that it made the opening sequence very creepy.  There were parts that were so explosively loud that it raised the tension level, especially when preceded by a quiet moment.   The sound of a gun being fired was at such a volume that it seemed like it had leapt off the screen.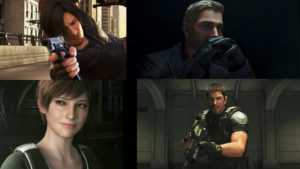 Clockwise from top left – Leon, Glenn Arias, Chris, Rebecca
Joining the ranks of the many villains in the series is Glenn Arias, a bad guy with a tragic backstory.  In an effort to take out the notorious arms dealer, the government launched an attack on Arias' wedding day.  Though he survived, he lost many of the people he cared about, including his new bride.  In retaliation, Arias went from dealing in conventional weapons to bio-weapons.
While it's unlikely that Arias knew how to manufacture a new virus to threaten and potentially destroy the world with, he is quite the formidable villain.  I thought he was very similar to the franchise's biggest baddie, Albert Wesker, but without the superpowers.  Arias is still a fast and spry enough fighter to give experienced soldier Chris Redfield a run for his money.
The movie's fights are spectacular, especially for an animated film.  The mix of motion capture and choreography churns out some of the most amazing battles I've seen.
However, there were also moments that seemed a bit over-the-top and unrealistic.  For instance, seeing government agent Leon Kennedy shoot and take down a creature while leaning off the side of a motorcycle he's driving on the freeway can't be physically possible.
I also loved the story and the character arcs.  Each of the main characters is given their moment to shine, especially university professor and biochemist Rebecca.  Not only does she break up an argument between Chris and Leon, but she also reminds both why they're in the fight against bio-terrorism.
One thing I found a bit iffy is that Rebecca becomes the damsel in distress in the second half of the film.  Arias abducts and attempts to woo her because she bears a strong resemblance to the wife he lost.  The mere fact that he believes she'll reciprocate demonstrates just how psychotic he is.
Overall, I really enjoyed the movie – though I would have liked to know more about this new virus and how it worked.  Creating a strain that allows the host to differentiate between friend and foe rather than attack everyone in sight seems to be too complex for an arms dealer.  I'm inclined to think that Arias had help in this endeavor.
I look forward to more animated films in the future, especially if they match the caliber of Vendetta.  And it was good to find a new favorite movie theater in the process.
Photo credits:
Glenn Arias — https://images.nowloading.co/images/c_limit,q_auto:good,w_600/uvj7sycwjrjglfbsfrch/let-s-take-a-closer-look-at-the-player-characters-of-resident-evil-vendetta.jpg
Chris – http://scontent.cdninstagram.com/t51.2885-15/e35/15337152_1833873270157948_2646422972209823744_n.jpg?ig_cache_key=MTQxMjYwMjk1NDc1ODcyMjY0NQ%3D%3D.2
Leon – http://www.imfdb.org/images/thumb/f/ff/Resident_Evil_Vendetta_05.jpg/600px-Resident_Evil_Vendetta_05.jpg
Rebecca — https://i.ytimg.com/vi/C5uGdP_xtxo/maxresdefault.jpg