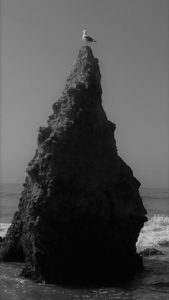 The acronym, CSI, usually stands for "crime scene investigation." In the next three posts, I will coin a new meaning for CSI – context, subtext and intertextuality. In Anton Chekhov's The Seagull, action occurs offstage, relying on subtext to convey the dramatic action to the audience. Dictionary.com defines subtext as the true meaning of a literary work. YourDictionary.com adds a character's feelings and motives. Wikipedia includes the "content beneath the dialogue." Literaryterms.net builds on these explanations with examples and distinguishes four types of subtext. Since Chekhov made a name for himself with this literary device, I will use The Seagull by Anton Chekhov to demonstrate each type of subtext.
Privilege Subtext
With privilege, the audience knows more than the characters in the play. The audience's privilege begins immediately in The Seagull at the introduction of the four protagonists and their relationships to each other. Arkadina, an accomplished actress, is mother to Constantine and lover to Trigorin, a famous writer. Constantine, an emerging and experimental writer, loves young Nina, feels inferior to his mother and her friends and competes artistically with Trigorin. Nina acts in Constantine's modern play yet is quick to criticize his writing. She is also quick to fall in love with Trigorin, who longs for love and life more than he really wants it. Trigorin and Arkadina share their passion for art above anything and anyone.
Secondary characters add more complication, conflict and love triangles. As each character shares his or her passions and longings, the foundation for both tragic and comedic missteps is laid.  Masha, daughter of the estate manager, longs in silence for Constantine's affection and spurns the school teacher's marriage proposal.  Masha's mother is in a secret affair with the doctor, physician to Sorin. Sorin, Arkadina's brother, struggles with his health and slumps over in the final scene as if dead.
Revelation Subtext
The themes of a play make an opportunity for a big revelation at the end. The Seagull's themes and characters from 1895 continue to be relevant over one hundred years later. During the performance, I identified with many of the characters. In fact, it would be difficult not to relate to at least one if not many of the characters.  Any writer, actor and artist will appreciate the themes of art and life. The deeper threads of theme tread on existentialism, meaning of life and existence. Chekhov portrayed characters of varying sensitivity and awareness. Death flirted with these characters.
Subtext through Promise
One aspect of the author's promise is that characters change and symbols are fitting for the story. The most changed character in The Seagull is Nina. She begins the play describing herself as the carefree seagull drawn to the lake of her childhood. Nina's future is uncertain because her father's marriage leaves her without an inheritance. Trigorin shares his note for a writing idea about a young girl who is like a seagull; she falls in love with a famous writer, who uses and destroys her. If that is not enough foreshadowing, a gunshot fires off stage. Constantine appears and presents a dead Seagull to Nina. He says he will be dead like the seagull in Nina's honor. Chekhov's promise will be delivered; Nina and Constantine do not fare well in the play's ending.
Subtext through Questions
A good plot inspires questions. For example, will Nina run away with Trigorin? How will Constantine and Arkadina react? Is the weather preparing the audience for a change?  How can Nina and Constantine recover?  Which character will die?
The Seagull was a new type of play for 1895, introducing subtext to the theatre. Did Chekhov write Constantine's criticism as an extension of his own? Did he write his own insecurity as Constantine's? Or was Trigorin the real Chekhov? Did he observe, write and never live? At these points in the play, Chekhov inserted himself (and every other playwright) into The Seagull. The new translation performed by the Michigan Shakespeare Festival made me an instant fan.