If there is one thing I like best about video game sequels, it would be the continuation of a story or enhancement of a casual game. While I love hearing news of an upcoming installment that will add to a series I enjoy, there are many games I've played in my lifetime that sadly never got a follow-up.
Below is my list of twenty games, including some obscure titles, I would like to see a sequel for.
1) Phantasmagoria (1995)\Puzzle of Flesh (1996) – An interactive horror game series that filmed actors against a blue screen, Phantasmagoria was quite innovative for the technology of its time. While the original entry and its sequel, Puzzle of Flesh, told stories unrelated to each other, they were the most suspenseful and goriest games I'd ever played up to that point. If the company that produced them hadn't gone out of business, it would have been interesting to see the series evolve with the times.
2) Portal 2 (2011) — I love the Portal series for its interesting blend of logistical puzzles and humorous stories. It centers around a mute girl named Chell who is being used as a test subject in an underground facility run by a sadistic artificial intelligence called Glados. While Chell is let out into the surface world at the end of Portal 2, it shouldn't necessarily mean the series is over. I feel that there are other stories that could be told – maybe even with a different protagonist. I hold out hope for news of a third game on the horizon.
3) Gauntlet Legends (1998)\Dark Legacy (2000) – Gauntlet Legends and Dark Legacy both exist as bold, larger than life reimagining of the original two-dimensional game from 1985. Legends took the basic concept and made it a hundred times better with a three-dimensional environment and more resources to keep the player's character alive. Legends and Dark Legacy were so enjoyable that they had me visiting the local arcade on a weekly basis. What's even better is that the arcade game saved my progress and character level because I typed in a password on the machine. While I wish that there was a sequel to expand on the two existing games, they remain some of my all-time favorite dungeon-crawlers.
4) Command and Conquer: Renegade (2002) — While I am a fan of the Command and Conquer franchise in general, Renegade stands out for being the only game in the series to let you assume control of a single character rather than directing one army to fight another. In Renegade, you step into the shoes of a commando named Havoc who takes on missions to destabilize an evil organization. I spent countless hours playing and replaying levels on all difficulty settings. I would have liked to see another Command and Conquer game use the same formula. But since the production company went out of business a year later, it seems all I can do is dream.
5) Emperor: Battle for Dune (2001) — Though loosely derived from writer Frank Herbert's Dune series, Emperor tells an equally intriguing story centered around a battle between three factions to seize control of a planet holding the galaxy's most valuable resource. I spent countless hours with the roleplaying strategy game, sometimes spending half a day just trying to get through a single mission. The ending of the game remained the same no matter which faction was picked and was left very open-ended. I would have loved to see a follow-up that would answer some questions about the conclusion of Emperor. Unfortunately, the same company – Westwood Studios — behind Command and Conquer was also the one that produced Emperor: Battle for Dune. The closure of the company pretty much guaranteed that a sequel would never come.
6) Fable III (2010) – Though I don't consider Fable III as the best PC game I've ever played, it still had good qualities I'd like to see improved upon in a fourth entry. In Fable III, you play as a young prince or princess – dependent on player preference – whose older brother is a cruel ruler who is asking for a revolution. The younger sibling escapes the palace and proceeds to forge alliances to take back the kingdom. The player decides if the main character will be a benevolent or downright evil ruler. But I feel there could have been better ways to exemplify the paths chosen. For me, it's very off-putting to see the main character show his or her willingness for evil by farting in someone's face. Sadly, the series hit a dead end following the release of a standalone game in 2012. Since the company behind the Fable series – Lionhead Studios – closed down in 2016, there may never be a Fable IV.
7) King's Quest: Mask of Eternity (1998) – The only thing that this particular game has in common with the first seven entries in the King's Quest series is the title. Mask of Eternity is a role-playing, dungeon-crawler game that hardly seems to fit with a series of point-and-click fantasy games. Nevertheless, Mask of Eternity is very enjoyable for what it is. While I never made it all the way to the end thanks to a game glitch that halted my progress, it would be nice to see a follow-up in the same vein.
8) Dead Island: Riptide (2013) – The Dead Island series consists of the most intense zombie survival horror games I've ever played. Both the original game and Riptide are hardcore enough to have me angrily cursing every five to ten minutes. There are also moments where I've felt like a total bad-ass with some of the zombie kills I got. The first two games are set on separate islands in an archipelago where an outbreak has occurred and both games allow you to play as one of 4 to 5 characters with different strengths. There was an announcement for a Dead Island 2 – to be set in California of all places – that was scheduled to be released in 2015. But production problems resulted in the sequel never seeing the light of day. Whether it will ever be released is anyone's guess.
9) Oregon Trail 2 (1995) – Oregon Trail 2 is an excellent educational simulation game where the player strives to get pioneers safely from their starting point to a new life in the west. I can't even count the number of times I attempted to traverse the trail, but most of my playthroughs ended with the wagons getting trapped in a mountain pass during the winter. I feel that a potential third game would be outstanding with today's technology. I strongly hope to see Oregon Trail 3 become a reality someday.
10) Icebreaker (1995) – Of all the games I've played in my lifetime, Icebreaker wins top marks for being the most unique. It is an addictive arcade-type game where the player controls a 3D triangular icon that can shoot bullets or smash certain objects in the game by ramming them. The goal to beating each level is to completely destroy a grid of pyramids. Some examples of what makes it challenging are that the stationary pyramids require different methods to demolish, while the mobile pyramids can kill the player-controlled icon if they catch it. As if that didn't ramp up the difficulty enough, there are also hidden traps or hazards to watch out for, such as a pit to fall into. I got so much enjoyment from Icebreaker that I'm sad it never got a bigger and better sequel.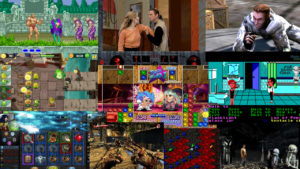 Top (L-R) Altered Beast, Phantasmagoria, Command and Conquer: Renegade
Middle (L-R) Plants vs. Zombies 2, Super Puzzle Fighter II, Maniac Mansion
Bottom (L-R) Battle Slots, Dead Island: Riptide, Icebreaker, Darkseed II (photo credits at end)
11) Plants vs. Zombies 2 (2013) – The Plants vs. Zombies series consists of games that are kid-friendly, but still very enjoyable. It is exactly what the title suggests and consists of the player picking a roster of eight to nine plants per level to ward off zombie attacks. When I first heard news of a sequel to the original game from 2009, I was ecstatic – until I found out it would only be playable on an Android device instead of a PC. I greatly hope that there will be a Plants vs. Zombies 3 someday and that it will be compatible with a device that I actually own.
12) Maniac Mansion (1987)\Day of the Tentacle (1993) – Maniac Mansion was a comical puzzle game series that was so challenging I had to frequently look at hints on how to get through it. While the plot was too bizarre to try to make sense of – a mad scientist kidnaps a college girl because he's being mind-controlled by a meteor – the game greatly appealed to me at my young age. Day of the Tentacle brought back some of the characters from Maniac Mansion, but there's no way I could summarize the plot in a way that would do it justice. I would have liked to see a continuation, but I guess there was only so much weirdness that the series' production team could come up with.
13) Age of Mythology (2002) – Age of Mythology is one of the best strategic battle games I've played and features tons of elements from Greek, Egyptian, and Norse mythology. The game also has an epic story that sees heroes from each civilization band together to prevent the release of the imprisoned Titans. Most levels allow you to utilize God powers, such as summoning an earthquake, to help defeat the enemy armies. Good luck on figuring out how to get through the game on the hardest difficulty – I never could, but I still enjoyed playing it very much. I recently learned that there was an expansion pack – which focuses on Chinese mythology — developed last year for a remastered version of Age of Mythology. But I still would very much like to see a sequel made.
14) Origamo (1994) – Origamo is a casual puzzle game that's similar to Tetris and consists largely of using polygonal shapes to fill in a given origami-like image for each level. While it might not have appealed to everyone – especially since it seemed impossible to beat the game on the hardest difficulty setting – it is one that holds a special place in my heart. Part of me will always wish it had been popular enough to warrant a sequel.
15) Altered Beast (1988) – A game I was frequently drawn to during trips to the arcade, Altered Beast is a side-scrolling fighting game that pits the generic main character against a wide variety of supernatural monsters. During each stage, the player can use power-ups to transform their character into a beast – such as a werewolf or were-tiger – to better decimate the monsters encountered. I loved this game so much when it was still around that I once spent an entire day feeding quarters into the machine just to get all the way through it. What I would love even more is to see a modernized version of it made available for gamers.
16) Darkseed II (1995) – The Darkseed games hold the distinction of being a showcase for the artwork of H.R. Giger, the artist who designed the title creature in the popular Alien film franchise. Aside from being visually stunning, this sci-fi PC series has some good stories. The basic plot for both games has a man named Mike Dawson striving to stop aliens – from a place called the Darkworld – from succeeding in a plot to destroy the Earth. It disappointed me that Mike was killed at the end of the second game. I often felt that the story shouldn't have stopped there. I've seen many other video games come up with something creative to bring a supposedly dead character back to life. It's doubtful that the Darkworld aliens would have stopped aiming for Armageddon. It would really be nice to see the series revitalized after all this time, but I won't hold my breath.
17) Mystery P.I. (2007 – 2011) – Mystery P.I. is the collective title given to a series of hidden object games for the PC. Featuring elaborately designed levels, Mystery P.I. really made it a challenge to locate all the objects on the given list. It is a series that easily could have kept going, but sadly came to an end after the release of the eighth game.
18) SimCoaster (2001) – I know there are a lot of video games that allow the player to build their own theme park, but I regard SimCoaster as a personal favorite just for its simplicity. It is another game I never got to play all the way through thanks to some bugs in the code, but it is one I never tired of. If a more modern version should ever be released, I would snap it up in a second.
19) Battle Slots (2011) – Battle Slots is a highly creative video game that combines slot machines with a duel-to-the-death fighting game. Your victory in battle against your opponent is dependent on how many good spins you get on the slots. The concept is so original and innovative that I'm surprised a Battle Slots 2 never came to be. Fingers crossed that my hopes for a sequel will one day become a reality.
20) Super Puzzle Fighter II (1996) – Super Puzzle Fighter II, an arcade game that I frequently fed quarters to, was a combination of Tetris and Street Fighter. The primary goal was to clear rows on the Tetris board as quickly as possible to decimate the other player or computer A.I. controlled fighter. It is one game that I really miss playing, especially because I was particularly good at it.
I'm glad that I've lived long enough to have played so many different video games over an ever-changing landscape. It's a far cry from the two-dimensional environment of Maniac Mansion to the realistic high definition characters and settings presented in Dead Island. For me, each of the games on this list deserves either a follow-up or modernization of a terrific concept. Whether or not a sequel comes to pass for each of them, the fond memories I hold for the games on this list will never go away.
Photo credits:
Phantasmagoria — https://s3-us-west-1.amazonaws.com/shacknews/assets/editorial/2016/04/phan2.jpg
Command and Conquer: Renegade — http://ilarge.lisimg.com/image/371631/800full-command-%26-conquer%3A-renegade-screenshot.jpg
Dead Island: Riptide — https://media.takealot.com/covers/covers/31999483/di6-zoom.jpg?1406707585
Icebreaker — http://2.bp.blogspot.com/-ibEwDvznSZ4/VIcS0nERdII/AAAAAAAAMrw/xNLKn7XA97Y/s1600/Icebreaker_03.png
Plants vs. Zombies 2 — https://o.aolcdn.com/images/dims?quality=100&image_uri=https%3A%2F%2Fwww.blogcdn.com%2Fwww.joystiq.com%2Fmedia%2F2013%2F06%2Fplantsvszombies2.jpg&client=cbc79c14efcebee57402&signature=82c0cf06949e670dfdd42e0f1facdf581563dd6a
Maniac Mansion — http://www.honestgamers.com/images/games/13/M/16468/16.jpg
Altered Beast — https://www.arcade-museum.com/images/118/11812416304.png
Darkseed II — https://www.cdh.cz/galerie/15503-6.jpg
Battle Slots — https://www.gamingnexus.com/Images/Article/kdxlyf3047/1.jpg
Super Puzzle Fighter II — http://static1.1.sqspcdn.com/static/f/271672/5816060/1266519736607/Super-Puzzle-Fighter-II-Turbo-HD-Remix-1.jpg?token=7iVN9WJB%2Bq9Ggza6oG9xUzNCHw0%3D