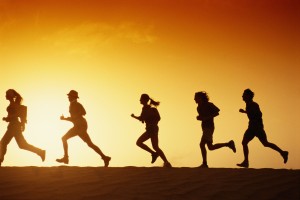 Exercise is hard work. Running, in particular, is tough to get started. I can find lots of reasons not to get ready until there is not enough time to do it. Yet when I do get dressed and step outside, and run…the feeling I have afterwards is one of appreciation. It feels good to have run a route. The energy gifted from the exercise helps me write.
Writing can be similar for many would be writers. Crafting essays and literature is a dream that many share, but few pursue on a regular basis. The major excuse is "not enough time", but like exercise, we can find 20 minutes out of a day to write. Also, an added benefit is that one can write anywhere and at any time. There is no reasonable excuse not to write, unless one is not truly interested in writing.
Writing is a muscle that requires frequent exercise. For some, starting slow is okay, so long as the practice happens along a routine such as 20 minutes four times a week or 10 minutes daily. Start slow to be smooth, and smooth will become fast. Ignore the voice in your head that finds sudden interests in doing chores that you normally avoid.
The writer athletes at Deadwood Writers share posts based on regular exercise of word-smithing. Many would tell you that their start with writing was erratic. "Post monthly? Really." These athletes, including myself,  at one time enjoyed watching and thinking, without actually pursuing. What you'll find in the recent posts game-time displays of athleticism that writers do. The effort and study of words is a constant drive so that each month's post is smoother than the previous one. The purity of writing, like exercise, is not winning accolades—the purity of writing is to become better at it during each run.
Hope you enjoy the efforts of our deadwood writers. May they inspire you to comment and continue your writing journey.